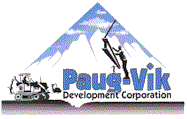 Paug-Vik Development Corporation
6250 Turtle Place, Suite 5
Anchorage, AK 99507
Phone: (907) 258-1345
Fax: (907) 222-1188
Paug-Vig Development Corporation (PDC), An Equal Opportunity Employer, is seeking experienced Journeyman Carpenters to work in remote locations in Northwest Alaska for extended periods of time. Carpenters must have 5 years min. of continuous experience with foundations, floor, wall, roof framing, interior framing, siding, metal roofing and interior finishes.
Some Projects are Prevailing Wage projects. On those that are not, wages would be in the range of $30.00 – $40.00/hour depending on experience (DOE).
Applications can be found at Paug-Vik Development Corporations, Naknek Office or resumes can be faxed to our Anchorage Office at (907) 222-1188. Please provide a minimum of 3 references who can verify your skills, along with their daytime phone numbers when applying or faxing a resume.
All workers hired must be in good health, able to perform physically demanding work in any weather and pass a drug test prior to hiring.
Hiring Preferences will be given to members of Paug-Vik Incorporated Limited, Inc. and the residents of the Native Village of Diomede, and Nome Eskimo Community, as well as Alaska Natives and American Indians to fill these positions.