Fox Creek Apartments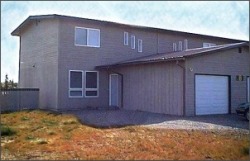 This three-building complex is located in King Salmon, off Jensen Drive, near the Alaska Peninsula Highway. Twelve remodeled, 1300 square foot units offer modern conveniences and an open, bright interior design. Window placement enhances the open floor plan, creating a look and feel of spaciousness and harmony. Each building has four – three bedroom units. Enjoy a chandelier-lit dining room as you watch the sunset across a wide expanse of beautiful spruce trees and tundra.
The Kitchens are U-shaped, for the utmost in efficiency and convenience. All units have a full size washer and dryer, dishwasher, range and a refrigerator. Each bedroom has a full-length closet and ample lighting. There is a full bath upstairs and a half bath downstairs.
You enter through a tiled entryway. The bathrooms and laundry area have vinyl floors. Stairs, upper hallways, bedrooms, and living rooms are carpeted. Dining areas and kitchens have laminate flooring. Back door opens onto large covered deck.
The attached heated single car garage has a remote opener. Cold storage units are available on site, located adjacent to the complex as separate 10 foot by 20-foot storage cells with roll top doors at an additional cost.
Paug-Vik provides heat, hot water, snow removal, lawn and grounds maintenance for all Fox Creek Townhouses. Cable service is not provided but the townhomes are cable ready.
Click here for our secure online application.
If you have questions, contact the Paug-Vik Property Manager at rentals@pvil.com